THE PAINTINGS, WATERCOLORS AND DRAWINGS OF PAUL CEZANNE
On January 19, 2019, the complete online Catalogue Raisonné of Paul Cezanne went live – commemorating the artist's 180th birthday with a bang!
Five years after the launch of The Paintings of Paul Cezanne: An Online Catalogue Raisonné, the digital catalogue has been expanded to include all known Cezanne watercolors and drawings, making it the first compilation of the artist's complete works since Lionello Venturi's publication of Cézanne: Son Art, Son Oeuvre in 1936.
The Online Cezanne Catalogue Raisonné
The online catalogue was first launched in 2014 under the direction of Walter Feilchenfeldt and Jayne Warman – both of whom worked on John Rewald's 1996 catalogue raisonné of Cezanne  – in collaboration with David Nash, (ex-Sotheby's and current co-director of Mitchell-Innes & Nash). The original idea germinated in 2010 and was initially destined to be an updated printed supplement to Rewald's catalogue, with full-color images replacing black and white. The idea rapidly grew into an ambitious online resource that began with the artist's paintings, and today covers his complete works: The Paintings, Watercolors and Drawings of Paul Cezanne.
The Website and Cataloguing Tools
The software and digital cataloguing tools  were designed by panOpticon, a New York-based company specializing in data management systems tailored for Catalogue Raisonné specifications. Capitalizing on the versatility of digital technology, the site provides a wealth of information for amateurs and scholars alike, including advanced filtering and search capabilities, as well as links between artwork, collections, exhibitions, and published references.  Recreating the list of artworks shown in a specific exhibit, or belonging to a certain collector, becomes child's play. 
These tools enable a remarkably fluid approach to the artwork. For example, by browsing the collections we can see that Cézanne's childhood friend, Émile Zola, once owned 20 works, including 12 paintings and 8 drawings. Clicking on one of these paintings, Le Bac à Bonnières (now at the Musée Faure, in Aix-les-Bains) reveals, in addition to the catalogue entry, a vintage postcard of the painter's motif, for comparison. The possibilities seem endless!
Intertwining Sources of Inspiration
If Leo Marchutz were alive today, he would no doubt be inspired by the resources and browsing possibilities of the Cezanne catalogue. The budding German-born artist didn't have the luxury of this technology when he first encountered Cezanne's paintings at the Neue Pinakothek in Munich at the age of 16. Marchutz made his first trip to Aix-en-Provence in 1928, to study the motifs of the Aix-born painter. Not long thereafter, he would become, in the words of John Rewald, "Cezanne's most fervent admirer and his most erudite connoisseur."(1) Like Cezanne, Leo Marchutz advocated study from nature and the study of the masters with almost equal passion.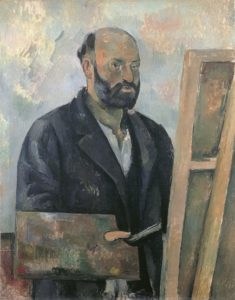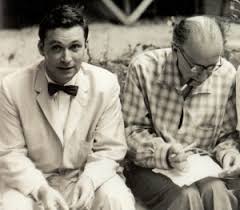 "I owe him my fervor for Cezanne" - John Rewald on Leo Marchutz (1)
Just as Leo Marchutz spurred John Rewald's enthusiasm for Cezanne's art, which led to the scholar's milestone publications(2), the online Cezanne catalogue has inspired The Leo Marchutz Catalogue Raisonné Project. Using the same digital tools designed by panOpticon, the initial work on the Marchutz Catalogue Raisonné will begin in February 2019. It will be a humble first step toward recording the legacy of Leo Marchutz, an exceptional artist in his own right, who merits a special place in the history of art.
THE PAINTINGS, WATERCOLORS & DRAWINGS OF PAUL CEZANNE
(1) Letter from John Rewald to Tony Spinazzola, May 14, 1962
(2) Rewald, John. Paul Cézanne: The Watercolors, A Catalogue Raisonné. Boston: Little, Brown; London: Thames & Hudson, 1983.  
Rewald, John. The Paintings of Paul Cézanne, A Catalogue Raisonné, 2 vols. In Collaboration with Walter Feilchenfeldt and Jayne Warman. New York: Harry N. Abrams, 1996.
HEADER IMAGES, PAUL CEZANNE – Left:  L'homme à la pipe, 1892–96, watercolor on laid paper, 51 x 32 cm. / Center: Les Joueurs de cartes, 1892–96, oil on canvas, 97 x 130 cm. / Right: Un joueur de cartes, c.1892–96, graphite on paper, 53.3 x 43.1 cm.
AUTOPORTRAIT, PAUL CEZANNE – Portrait de l'artiste à la palette, 1886-87, oil on canvas, 92 x 73 cm.
FOOTER IMAGE, PAUL CEZANNE – La Montagne Sainte-Victoire vue des Lauves, 1904–06, oil on canvas, 54 x 73 cm.
Photo credits: The Online Cezanne Catalogue Raisonné and Fonds Marchutz
Feilchenfeldt, Walter, Jayne Warman, and David Nash. The Paintings, Watercolors and Drawings of Paul Cezanne: An Online Catalogue Raisonné. http://www.cezannecatalogue.com