The Marchutz Tapes — Reflections on Art
The Question of Sacrifice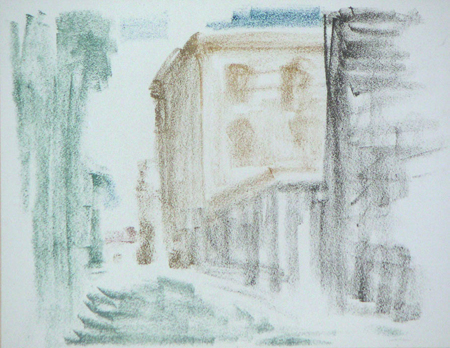 In the following excerpt from the Marchutz Tapes, Leo Marchutz describes his experience of drawing in the streets of Aix-en-Provence. It is intriguing to discover how Leo Marchutz began his drawings of Aix. As a student, I have taken inspiration from Marchutz's thoughts on drawing, of what is important, and how to make sacrifices along the way.
Samuel Bjorklund: When you set out to do your first pencil drawings in the Aix streets and landscape scenes, you probably never dreamed of the dimension it would take, you never dreamed of the importance it would have. It just grew.
Leo Marchutz: No, it's true. It just happened. I was more satisfied with this… contrast.
SB: Would you say of the various things one can draw, figures or landscape or streets, that it's the one domain where perhaps one risks to learn the most intensely about drawing?
LM: I think one learns about drawing as soon as one goes down to draw something. I think because one eliminates, there is a question of elimination too, of sacrifice, what is important, what is the stuff that vision has left out, and what is unimportant. One can find it only by doing it. If one does it around here there is time to do it again later on. But all these lovely places around Aix, they are the stuff of painting or drawing.
…Then there are things which are difficult, to show a street that's going down or going up, one has to learn to focus here. But here the rooflines are more important than what's going on on the floor.
Leo Marchutz,
Excerpt from The Marchutz Tapes, 1974-1976
When drawing or painting a motif, Marchutz believes that it is necessary to make sacrifices in order to reveal what is truly important. In his experience drawing in Aix, he found that certain characteristics of the buildings or streets were more important than others. Those less important were eliminated altogether from his drawing. This experience of discovering what is important and what is not is found only through drawing. Each artist learns about this question of elimination in his or her own process.
Here in Aix, I have found my experience of drawing and painting in parallel to that of Leo Marchutz. He believes that one learns only by doing, and that way of learning has bled into the mission and vision at the Marchutz School. I have had the pleasure of learning to see at the Marchutz School of Fine Arts.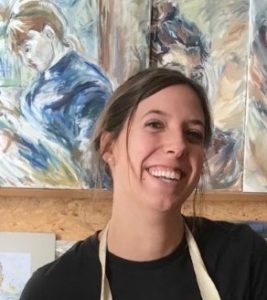 Excerpt chosen by
Alexandra Wheeler
Alex is from New Richmond, Wisconsin and is currently completing her second-year as an MFA student at the Marchutz School of Fine Arts.